Join the BGA for our Demo Day July edition! Discover new blockchain games, products, and service companies from our members. Attend the live event for a chance to win special prizes and giveaways.
Discover some of the most exciting Games, Products, and Service Companies from our Blockchain Game Alliance members!
Join live for a chance to win special prizes & giveaways and learn more about the companies presenting their projects, game, or services.
Prizes and Giveaways
Attend the BGA Game Demo Day LIVE & Win: NFT Airdrops & prizes will be released during the live stream event.
Join the live event on YouTube, Twitch, or Twitter (@BGA channels)
Agenda
This month we are going to host a live demo of the following projects:
About the Projects
Degen Royale is a chill web2x3 multiplayer shooter game designed specifically for passionate communities who want to engage in high energy battles against rival communities. Come battle as one of the 50 NFT communities' character on the island, Degen Royale combines the adrenaline of Fortnite with the rivalry and loyalty of gaming & NFT communities.
Face Wallet is a non-custodial wallet that reproduces the Web2 experience in Web3 promoting a safe and easy onboarding experience into the blockchain sphere for non-Web3 users.
With the in-app wallet interface, users can interact with the blockchain without ever leaving the application. Developers can use Face Wallet's SDK to quickly integrate secure wallets with relevant applications. In place of difficult concepts like seed phrases or private keys prevalent in existing wallet solutions, users can effortlessly enjoy blockchain functions through familiar social login methods and PIN code signatures.
Cookie3 is a Web2.5 behavioral intelligence & attribution platform that combines on-chain, in-platform and social users data to provide businesses a deep understanding of their users & community. We help companies to grow their user base by providing comprehensive insights of the complete user journey.
SWAGGA is a phygital fashion metaverse that bridges the gap between real life and virtual spaces. With its AI-driven immersive experience, this platform caters to fashion enthusiasts seeking convenience and unparalleled entertainment.
Our mission is to create a world where individuals can freely exchange value in an environment of inclusivity and boundless possibilities❣️
About the Blockchain Game Alliance
The Blockchain Game Alliance is an organization committed to promoting blockchain within the game industry. Our goal is to spread awareness about blockchain technologies and encourage adoption by highlighting their potential to foster new ways to create, publish, play, and build strong communities around games.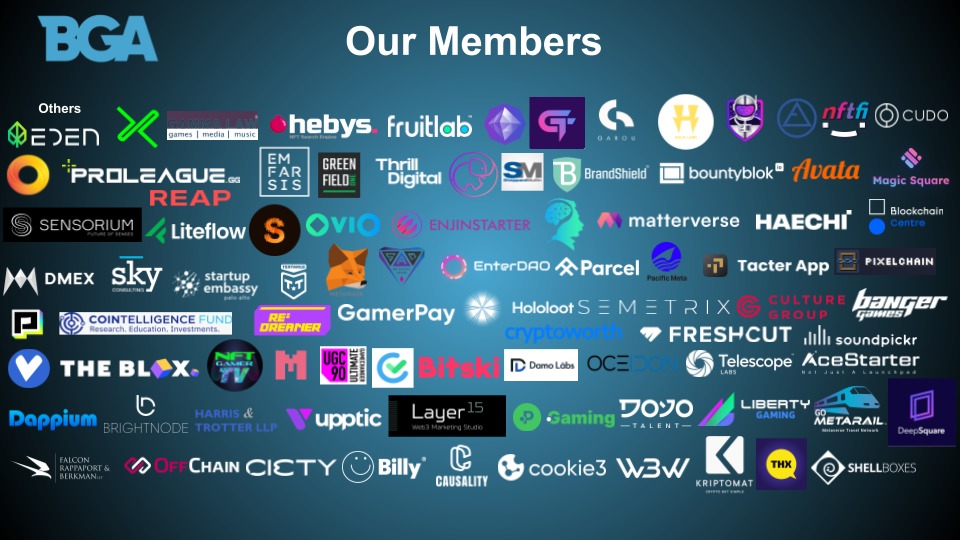 The BGA also provides an open forum for individuals and companies to share knowledge and collaborate, create common standards, establish best practices, and network.
Follow us on Twitter: http://twitter.com/BGameAlliance​​​​
Join us on Discord: https://discord.gg/9MXnj5x
Subscribe on Youtube: https://www.youtube.com/channel/UCblrftT1fOod7GsGuM8vegw
Follow us on Twitch: https://www.twitch.tv/blockchaingamealliance