The Blockchain Game Alliance is an organization committed to promoting blockchain within the game industry.
Our goal is to spread awareness about blockchain technologies and encourage adoption by highlighting their potential to foster new ways to create, publish, play, and build strong communities around games.
The BGA also provides an open forum for individuals and companies to share knowledge and collaborate, create common standards, establish best practices, and network.
the alliance core activities
Members chat tool
One to one industry introductions
REPRESENT BLOCKCHAIN GAME COMPANIES
Visibility for our members
Communication within our community and the outside world
Working groups
Workshops
Publications
ADVOCATE FOR BLOCKCHAIN
IN THE GAME INDUSTRY
Educational content creation
Presentations & workshops
blockchain & games upcoming events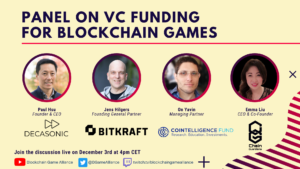 Join us on our next panel on venture capital funding for blockchain game projects on December 3rd, at 4 PM CET with BITKRAFT Ventures, ChainGuardians, Cointelligence Fund, and Decasonic.
Read More »