July 22 at 6pm CET
Free online event featuring a panel of industry leaders including Manticore, The Sandbox, Darewise, and Lockwood Publishing, discussing different approaches to metaverse games this year and beyond.
Are you ready to live virtually? We're closer than it looks! Learn about the present and future of the 'metaverse' — a digital world beyond the physical world we live in. Join us on this week's panel hosted by Candice Mudrick from Newzoo, a leading data source for games and esports analytics and market research. On this occasion, you'll hear from four pioneering companies in the metaverse space that are pushing the boundaries between what's analog and what's virtual.
Tune in this Thursday, July 22nd, at 6pm CET and connect with the speakers LIVE.
Watch live on our BGA YouTube, Twitter, and Twitch channels.
---
About Our Speakers
---
About the Blockchain Game Alliance
The Blockchain Game Alliance is an organization committed to promoting blockchain within the game industry.
Our goal is to spread awareness about blockchain technologies and encourage adoption by highlighting their potential to foster new ways to create, publish, play, and build strong communities around games.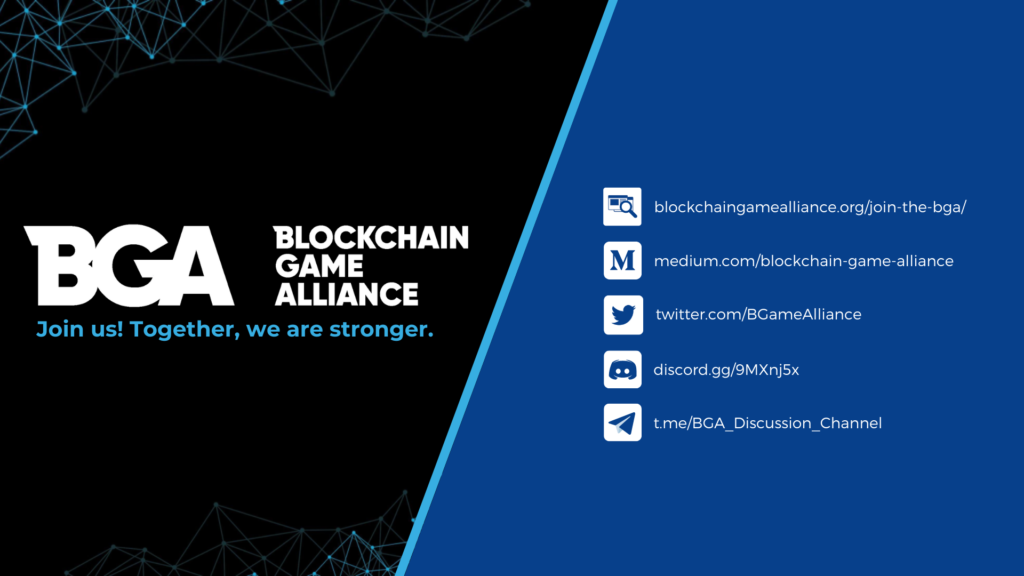 The BGA also provides an open forum for individuals and companies to share knowledge and collaborate, create common standards, establish best practices, and network.
Follow us on Twitter: http://twitter.com/BGameAlliance​​​​
Join us on Discord: https://discord.gg/9MXnj5x​​​​
Learn more about the BGA: http://www.blockchaingamealliance.org
Become a member: https://www.blockchaingamealliance.org/join-the-bga/